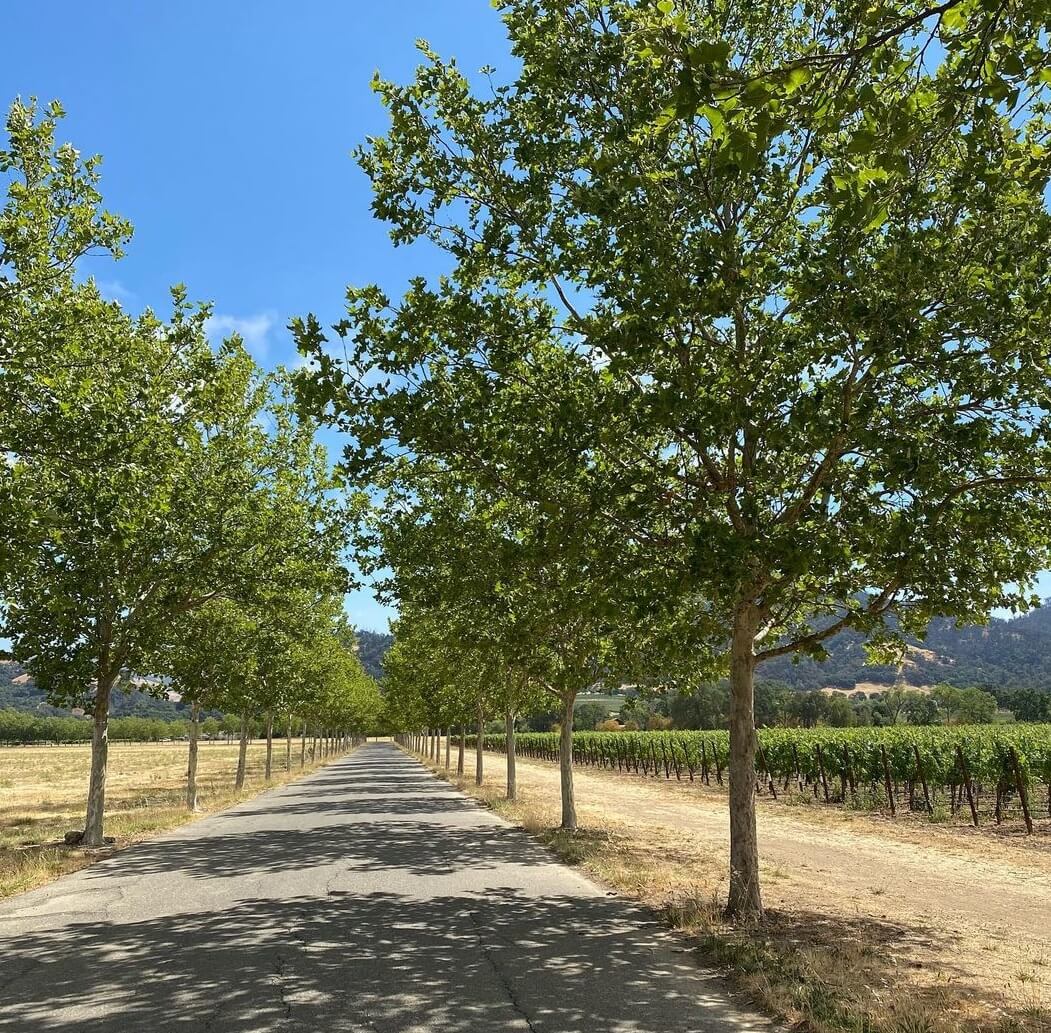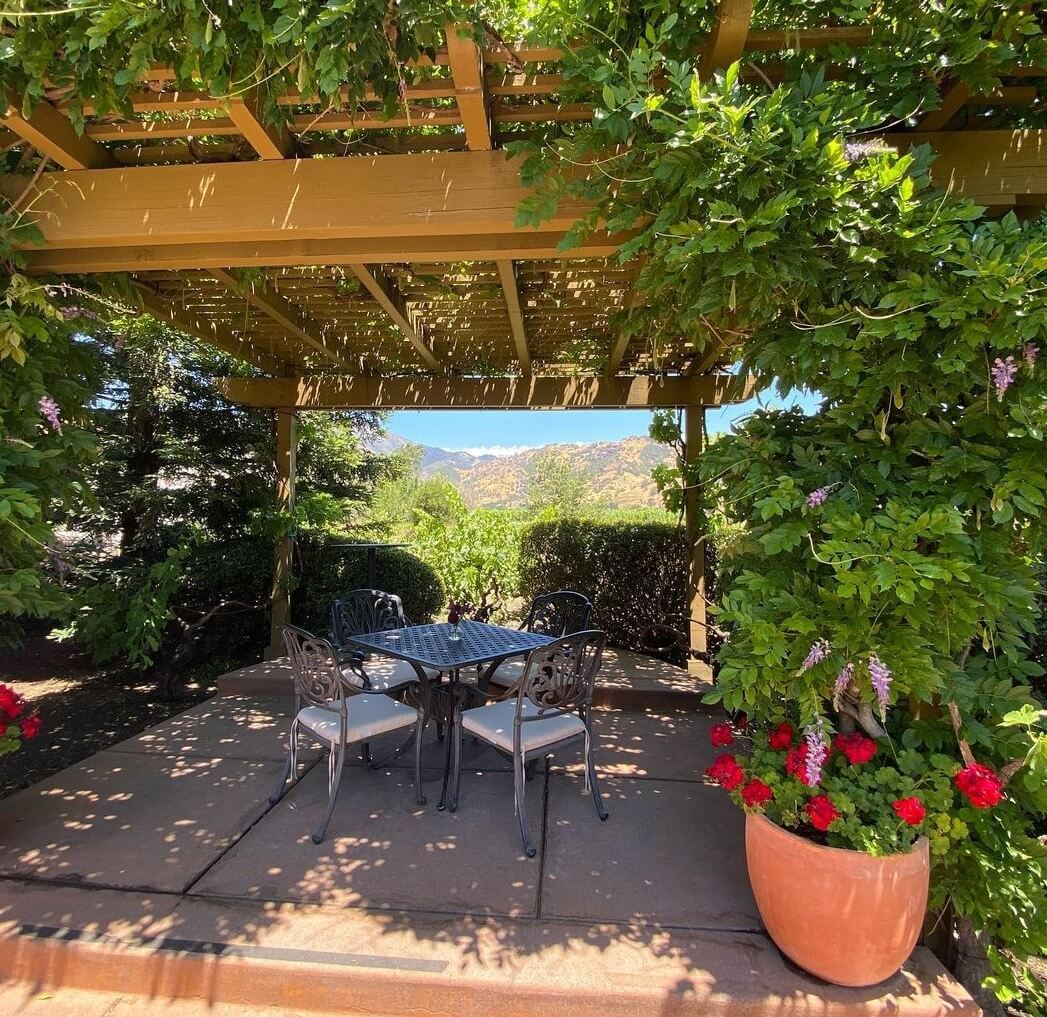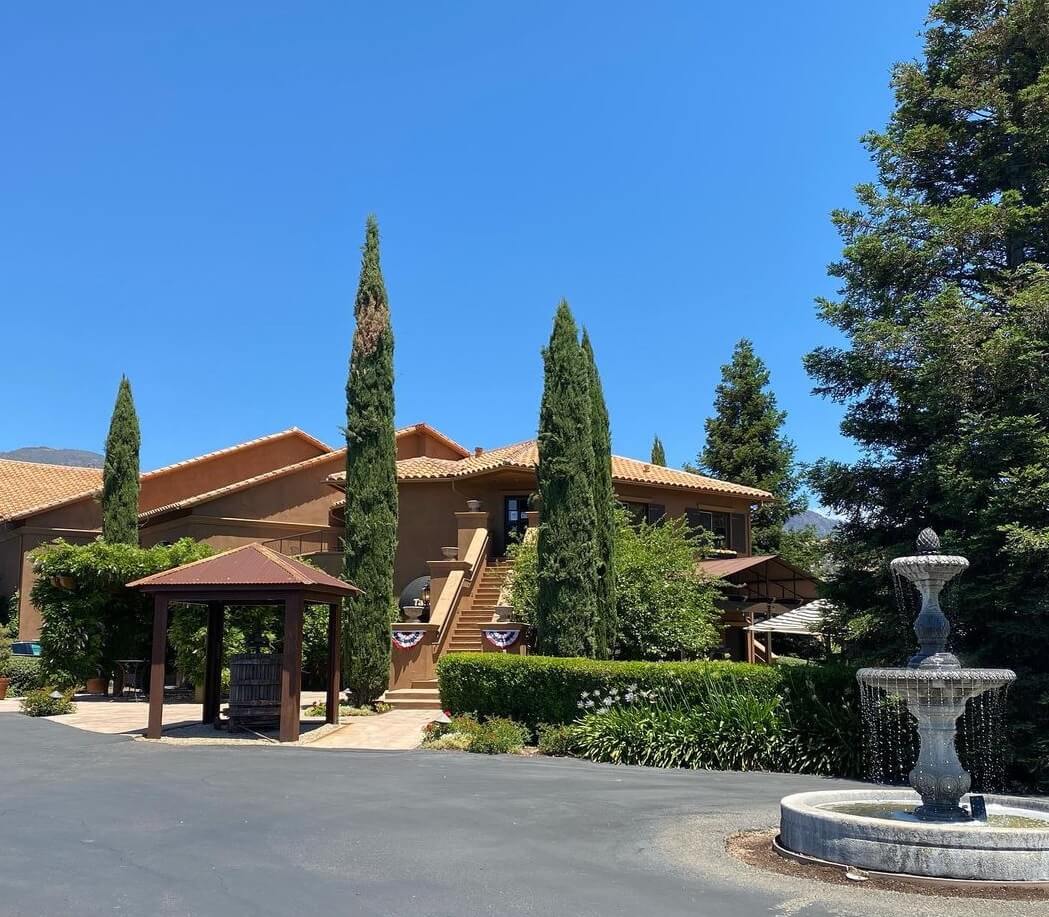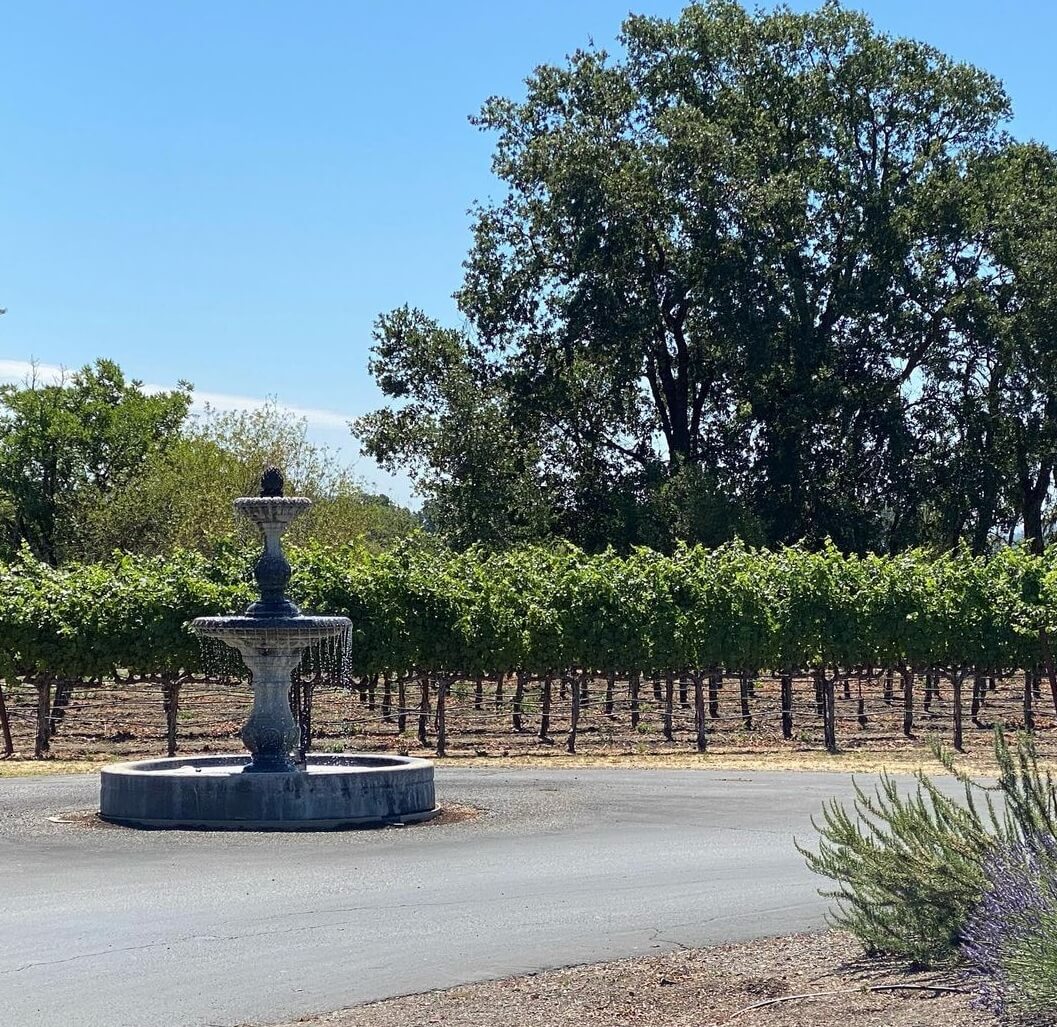 bennett-lane-winery-driveway
bennett-lane-winery-patio
bennett-lane-winery-building
bennett-lane-winery-fountain
Bennett Lane is the northernmost winery in Napa Valley. It's located just past Tubbs Lane (itself home to the Old Faithful Geyser of California). The winery was originally created in 1898 as Vigil Vineyards. In 2003, it came under the stewardship of owners Randy and Lisa Lynch. The winery itself is located just north of the compact vineyard, which covers 7 acres. The property spans a further 15 acres situated within the valley floor. The team also sources grapes from selected vineyards elsewhere in the Napa Valley. Maximus white, which is a blend of Sauvignon Blanc, Chardonnay, and Muscat, is considered Bennett Lane's most accessible wine.
The estate also produces a red blend (predominantly Cabernet Sauvignon with Syrah and Merlot) under the same label, as well as an intriguing Malbec. Meanwhile, the Reserve Chardonnay is produced from grapes sourced from the Los Carneros AVA. It is typically a single vineyard wine and past vintages have been produced with grapes from the esteemed San Giacomo vineyard. The wine is aged in French oak and is noteworthy for its 30% malolactic fermentation. In addition, Bennett Lane retails a Napa Valley AVA Cabernet Sauvignon and a pricier Reserve Cabernet Sauvignon, which can continue to develop in the cellar for at least 15 years.
The Lynch Family Calistoga AVA represents the pinnacle of Bennett Lane's winemaking. It is produced in very limited quantities. Bennett Lane wines are aged in barriques (a barrel originating in Bordeaux) with 30% new oak. Sadly, the Tubbs Fire decimated the winery's 2017 vintage, but the vines remained intact for subsequent vintages.
The Wine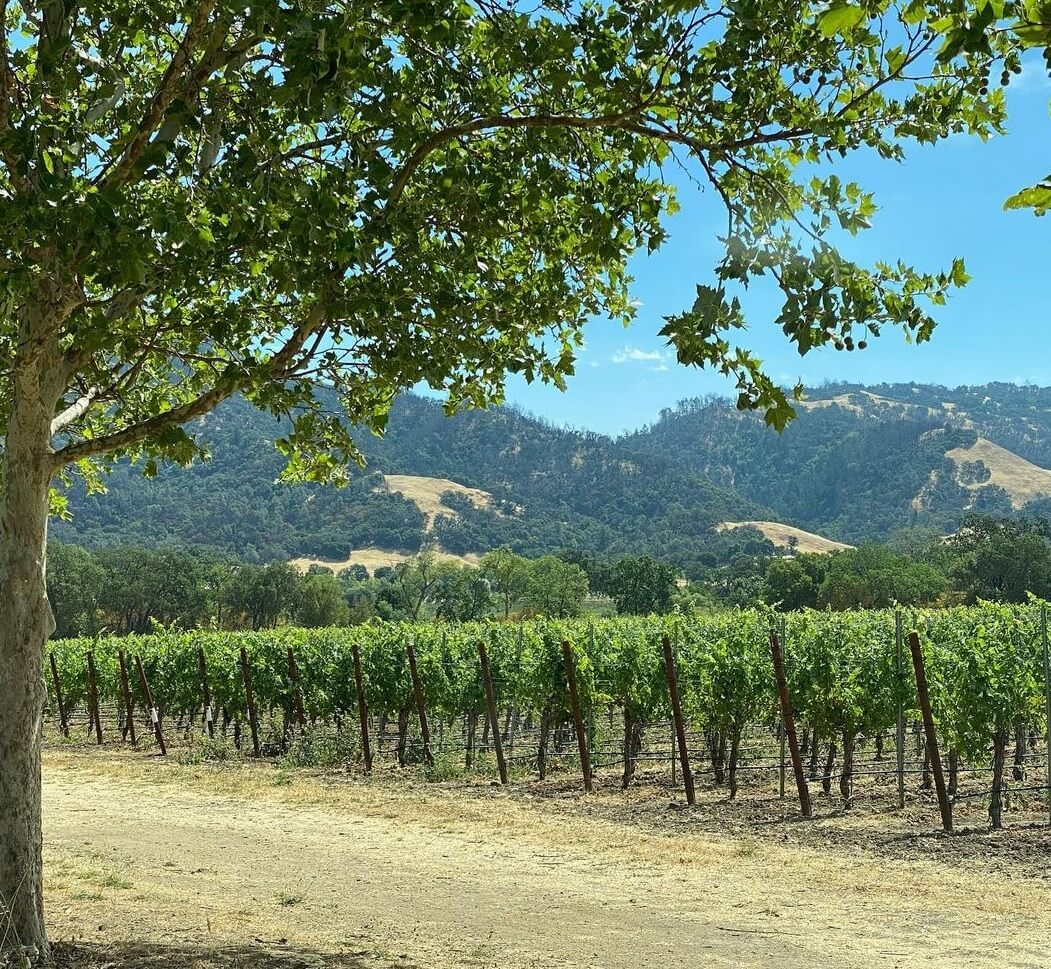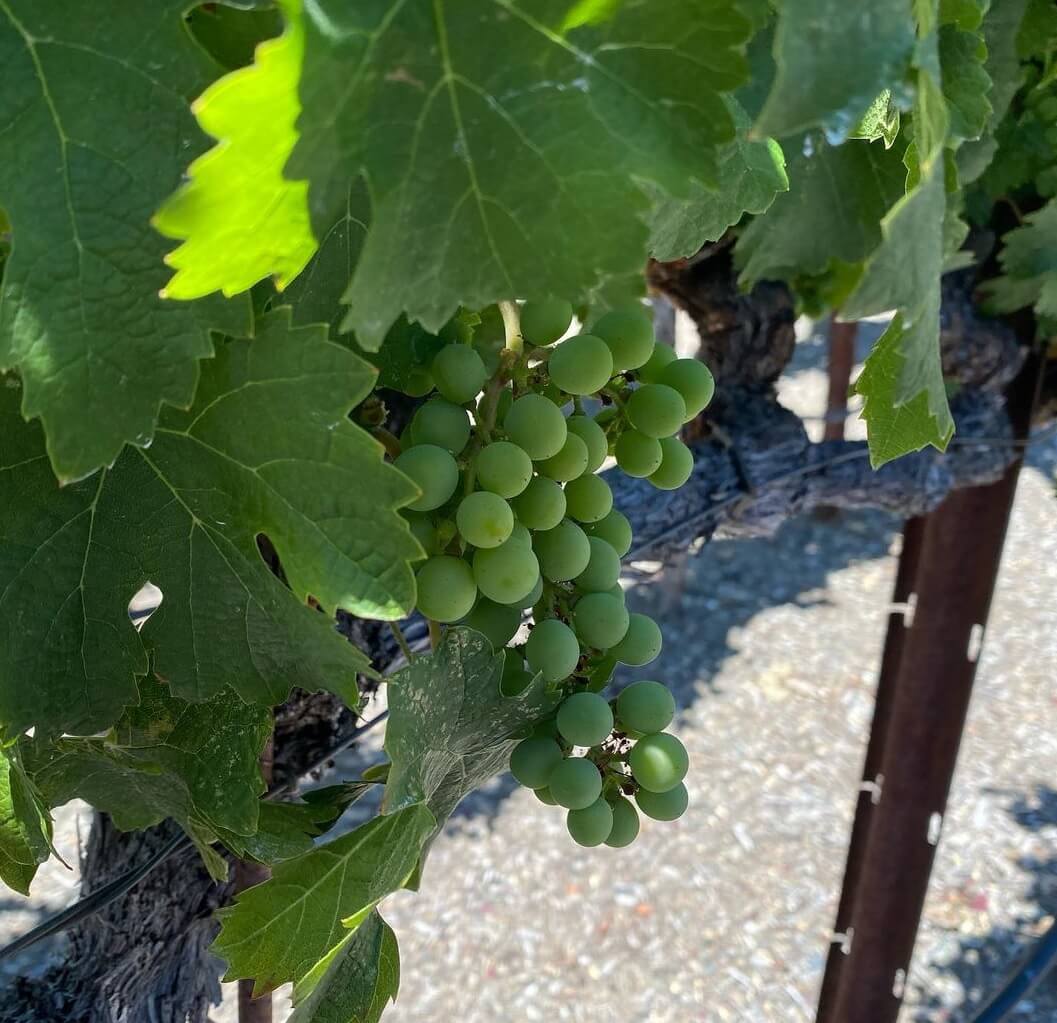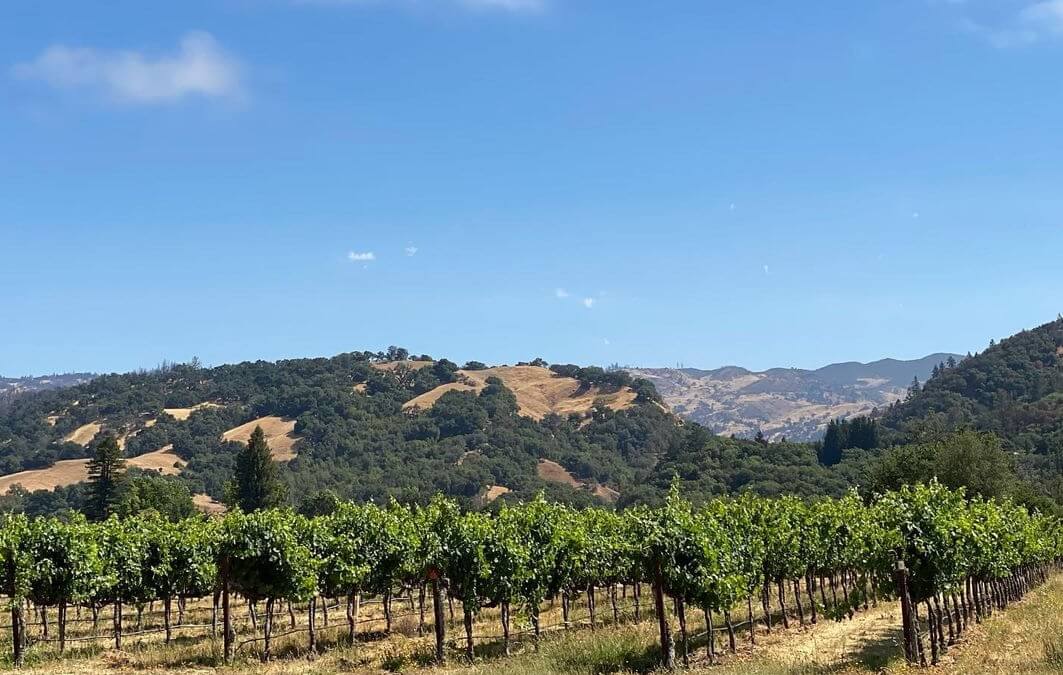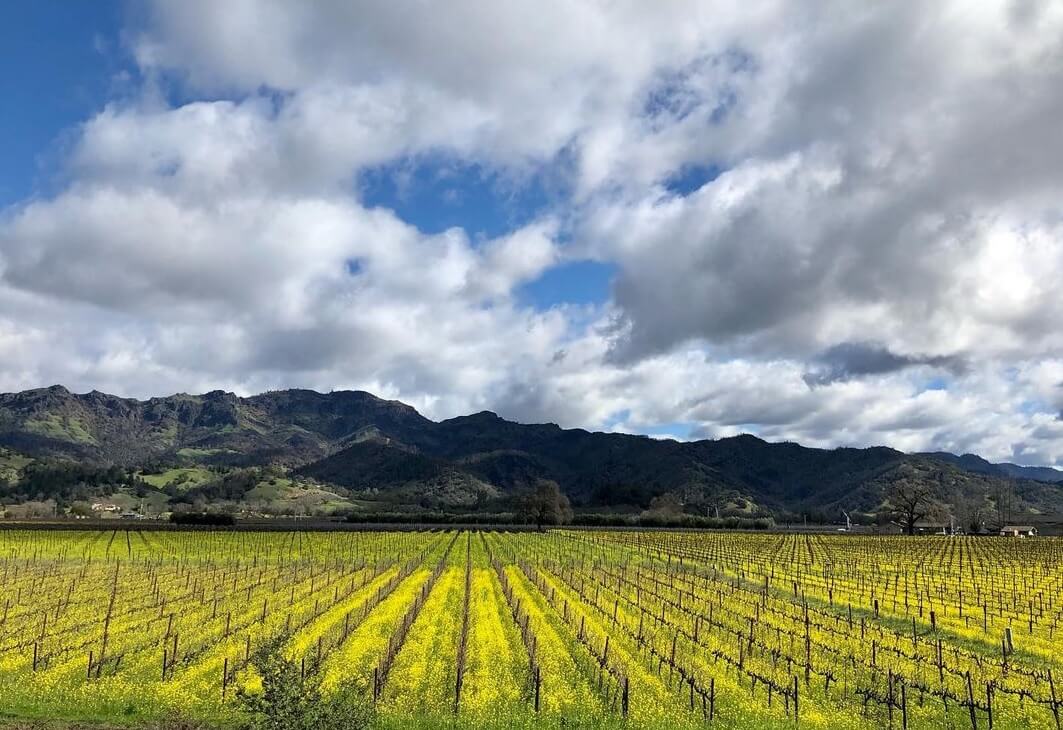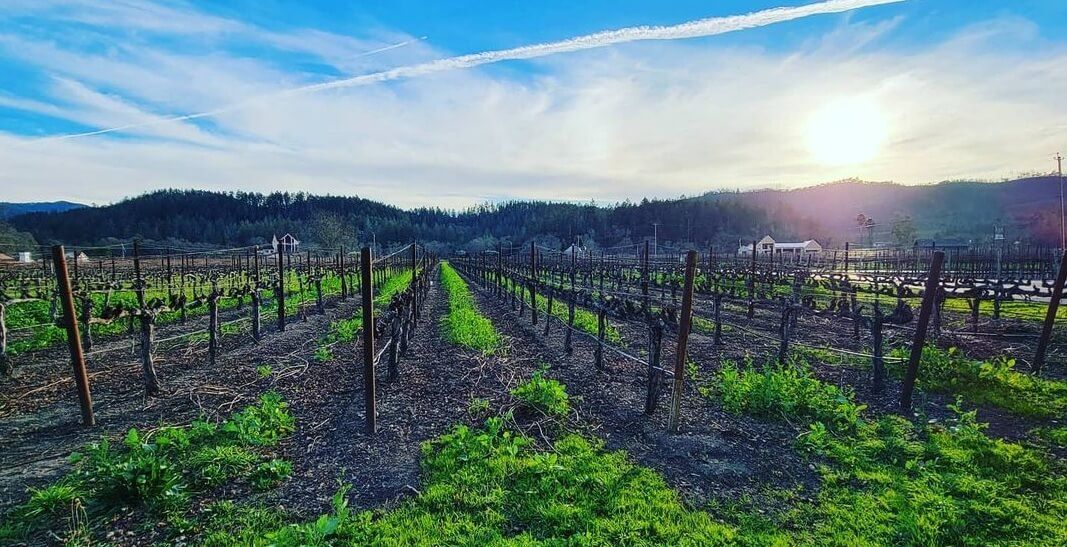 bennett-lane-winery-vineyard
bennett-lane-winery-grapes
bennett-lane-winery-vineyard-view
bennett-lane-winery-vineyard-spring
bennett-lane-winery-vineyard-winter
Bennett Lane Winery is far removed from lower Napa Valley's hustle and bustle. As a relative outpost, it tends to attract only the most adventurous of Cabernet Sauvignon enthusiasts, particularly those with a penchant for smaller, family-run estates.
The tranquil setting, only a couple of miles north of Calistoga, offers breathtaking views of Mount St. Helena, the palisades, and a wider panorama of the mountain range as it towers over the valley. This stunning backdrop only enhances the enjoyment of Bennett Lane's delightfully crafted wines.
Randy and Lisa Lynch, who acquired the former crush facility in 2003, were passionate about winemaking but relatively new to the business itself. What began as a hunt for a second home within the valley turned into a life-changing decision to open a new and attractive wine estate. The couple moved into a new home in Calistoga and purchased the Bennett Lane property. The early reception from wine critics was overwhelmingly positive and this spurred the couple on to greater heights.
The grapes used in Bennett Lane's wines come from a select portfolio of Napa Valley's most acclaimed growers. Today, partnering vineyards are located from top to bottom, extending from Yountville all the way to the petite vineyard of Randy and Lisa Lynch's own Calistoga vineyard. Like many wineries, the vision for Lynch's wines is to strike the correct balance between depth and complexity on the one hand and approachability on the other. Bennett Lane wines are drinkable today but have the proper characteristics to develop for a number of years cellared.
Current noteworthy Bennett Lane releases include:
Maximus White Feasting wine
Los Carneros San Giacomo Vineyard Reserve Chardonnay
Maximus Napa Valley (Cabernet Sauvignon)
Reserve Cabernet Sauvignon Napa Valley
Lynch Family Cabernet Sauvignon
Tasting experiences and tours will sometimes offer guests the chance to enjoy particularly special vintages that are not on general retail.
Bennett Lane's wines are produced from the Lynch's own small-lot estate with additional fruit sourced from select Napa Valley vineyards. The Reserve range and the Lynch Family Cabernet Sauvignon are particular highlights.
Tours and Tastings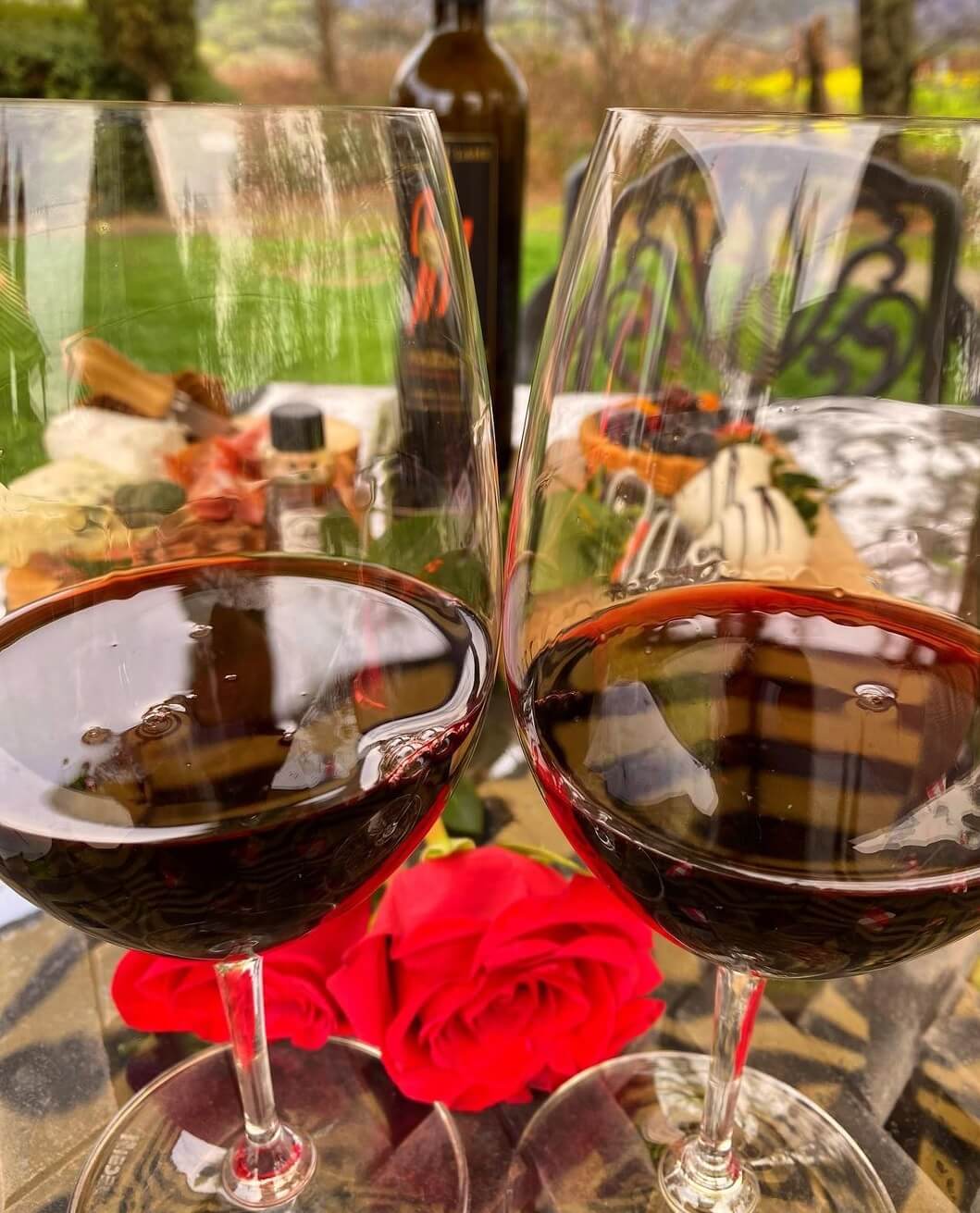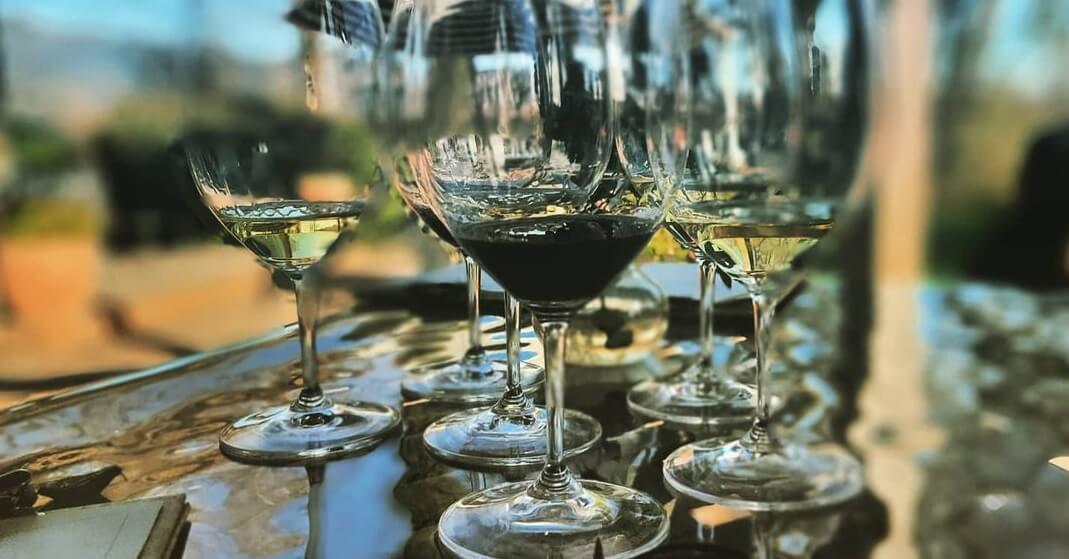 bennett-lane-winery-cab-tasting
bennett-lane-winery-tasting
The tasting area of the winery evokes images of the sun-drenched cities and towns of Southern Europe. It is painted in warm reddish tones and sits beneath a rustic, tiled roof. A lengthy but picturesque driveway leads up to the winery, running right past the nearby vines. On approach, the building looks like an elegant and expansive Mediterranean home. Inside, the vibe is relaxed yet refined, with the granite-top tasting bar immediately grabbing the attention. The surrounding furniture furthers the laid-back tone of the estate.
Guests are separated from the wine production area by a wooden door, which marks the starting point of a tour that takes in Bennett Lane's gorgeous vineyards with a multitude of vines producing all different varietals. Maximus is Bennett Lane's definitive and most widely known wine. Incidentally, it is named for Magnus Maximus, the Roman emperor, whose love for wine has been widely documented.
Each vintage of Maximus-labeled wines has somewhat different percentages of grape varietals. The 2020 vintage of the Maximus White Feasting wine blended primarily Sauvignon Blanc and Chardonnay with minute quantities of Muscat. The red Maximus 2014 vintage was a veritable whirlwind with Cabernet Sauvignon and smaller quantities of Cabernet Franc, Petite Sirah, Merlot, Syrah, and Petit Verdot.
Typically, the Maximus Red Feasting wine is composed mostly of Cabernet Sauvignon with a small amount of Syrah or Petit Verdot. It doesn't take a scholar to reach the conclusion that Bennett Lane's approach is all about innovative blending.
Perhaps the most intriguing aspect of Bennett Lane's winery is that visitors can participate in blending a variety of grapes to create a unique Maximus blend of their own. This is the most immersive option for guests wishing to explore the winery and vineyards. It also includes a vineyard tour, sensory evaluation seminar, and cheese pairing. The experience lasts two to three hours and costs $225 per person.
Current tasting and tour options:
Signature Seated Tasting ($25 per person)
Reserve Seated Tasting ($45 per person)
Ruby Fox Tasting ($100 per person)
Reservations are required for formal tasting experiences.
What we love: Bennett Lane Winery is situated on a beautiful estate with spectacular views. The tour experience is welcoming and thoroughly engaging. Most importantly, the wine itself does not leave guests disappointed.
What we don't love: You'll have to shell out $225 per person to take part in the winery's most immersive tasting and blending experience. For those staying in the southern part of the valley, it may be a trip too far.
Final rating: 4.5/5
Bennett Lane Winery offers guests the intriguing option of creating their very own Maximus blend to bottle and enjoy. Visitors can also enjoy vineyard tours and a wine-tasting seminar. Although this costs $225 per person, there are tasting options to suit all budgets.
Key Information
| | |
| --- | --- |
| Address | 3340 Hwy. 128 Calistoga, CA 94515 |
| Phone & Email | 877-629-6272 & 707-942-6684, [email protected] |
| Owner | Randy and Lisa Lynch |
| Winery Location  | The far north of the Napa Valley (a couple of miles north of Calistoga) |
| Appellation (AVA) | Calistoga AVA (home vineyards) with wines from the Napa Valley AVA and others |
| Hours | 10 a.m. to 5:30 p.m. (every day) |
| Tastings | Signature Seated Tasting ($25 per person), Reserve Seated Tasting ($45 per person), Ruby Fox Tasting ($100 per person) |
| Tours | Yes (See all) |
| Sustainable Viticulture | Yes (See all) |
| Wines | Cabernet Sauvignon, Chardonnay, among others |
| Winemaker | Rob Hunter |
| Annual Production | 132,000 bottles with grapes from Bennett Lane's 22 acre small-lot and from other select Napa vineyards |
| More Nearby | Look out for Bennett Lane's much anticipated Cabernet Release Weekend (late winter). Elsewhere, take in the Old Faithful Geyser of California or put on your hiking boots and head north! |
| Tastings | Yes (See all) |
| Bottles/Cases Available to Buy | Yes (See all) |
FAQ
Does Bennett Lane offer a wine club?
Yes. Member benefits include 15% off all purchases, free tastings for you and five guests, pre-release access, and invitations to private events. The "Date Night Duo" membership tier offers six shipments per year of two bottles each. It includes pairing recipes. The "Emperor's Society" tier offers four shipments per year of two to four bottles each. It focuses on the highest quality Reserve wines. Finally, the "Varietal Voyager" emphasizes a broad variety of wines plus discounted shipping and other perks. Find out more.
Does Bennett Lane host private events?
Most events and celebrations at the winery are open to the public. These include release parties and harvest parties. Guests can enjoy sumptuous food and wine pairings while soaking up the beautiful surroundings. You can see more winery events on Bennett Lane's website. Individuals seeking to organize private events should contact the venue directly.
What about the wine cruise?
Like other top wineries, Lisa & Randy Lynch are keen to celebrate all aspects of wine culture. In 2022, they host their first Mediterranean wine cruise. The early summer adventure will take in five countries (Italy, France, Spain, Portugal and the UK) over 12 days. It'll feature wine tastings and dinners with Bennett Lane's owners and long-time manager Stefanie Longton.
What dining options are there nearby?
Calistoga's Lincoln Ave. is home to the northern Napa Valley's most vibrant food scene. Solbar ($$$) is a particular favorite for thoroughly California-inspired fare. Sam's Social Club ($$$) offers satisfying portions and Lovina ($$) provides a welcoming experience.
Video