Geographically speaking, Solbar is among the Napa Valley's northernmost fine dining restaurants, located way past St. Helena and into Calistoga, which is the last stop before crossing over into Sonoma County. If you begin your journey from the City of Napa, driving all the way up to Calistoga actually takes you more than halfway over to Healdsburg, which occupies the heart of Sonoma wine country (Calistoga itself is only a few short miles from the Sonoma County Line).
Because of Calistoga's remote location up-valley, it can be quite easy for most people to simply overlook this little town, which is a crying shame. This "Saratoga of California" — as it was once billed in the 1880s — was actually one of the earliest developed areas in the Napa Valley, and even today, it still maintains several vestiges of its unique history (for me, Schramsberg is one of Napa's true "can't-miss" wineries, and is perhaps the most interesting property in the entire Napa Valley).
Solbar's History & Ethos
Solbar was the first institution to bring Michelin-star dining to the confines of Calistoga. That star, gained in 2010, was subsequently lost in 2018, not long after the departure of famed head chef Brandon Sharp.
What followed after Sharp's departure was a search for fresh impetus and a new identity. This was a necessary process compounded by a change in ownership and didn't come without its fair share of growing pains. Massimo Falsini was appointed executive chef in 2017 but lasted scarcely more than a year in his new role.
The restaurant has again (since late-2018) begun to find its feet under the culinary stewardship of chef Gustavo Rios, former sous chef and now leader. Rios previously worked at Solbar from 2007 to 2014 before leaving to nurture his talent at fellow Calistoga establishment, Evangeline.
Fortunately, the quaint little valley town of Calistoga is no longer "behind the curve" when compared to Yountville or St. Helena, which have long been home to the Napa Valley's top culinary destinations. I should also point out that, until the last couple of years, the City of Napa itself was also well behind this culinary curve, with relatively few Michelin-star restaurants to its credit.
However, as the fine-dining scene has gradually radiated outward from Yountville and St. Helena, not only has the City of Napa proven ripe for better restaurants, but Calistoga was bound to experience this culinary influx as well. Although spots like Buster's Barbecue are loveable, the town of Calistoga definitely needed a high-caliber restaurant within its zip code, if for no other reason than to draw more visitors to the Calistoga wineries.
Anyway, enough historical waffle from me, let's get down to what you care about — the experience of dining and the Solbar menu.
Alfresco is the Name of the Game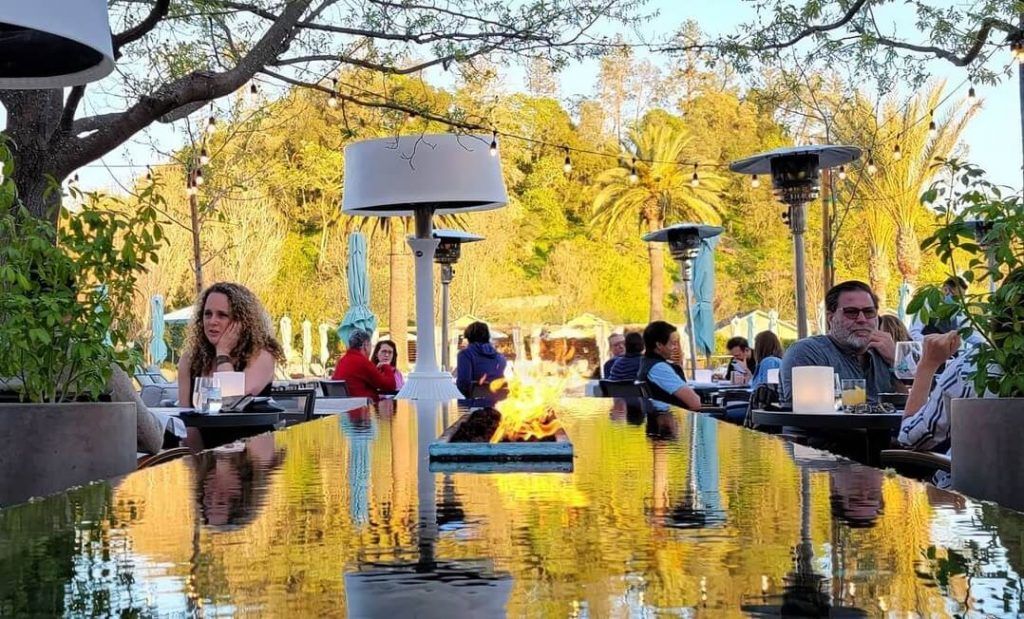 You will scarcely need reminding that in the period of 2020-21, the hospitality industry across our nation and the world grappled with challenges the likes of which we haven't seen before.
For its part, Solbar was shuttered at the beginning of the pandemic but reopened May 29, 2020, with a beautiful extended patio area more than double its previous occupancy. The dining room has also since reopened. The prospect of stopping by for an impromptu visit was far too great to resist.
While the dining room is full of character in its own right, the timeless popularity of alfresco will endure all across the Napa Valley. Under blue skies and pleasant weather, there are few experiences more picturesque and romantic than a table at Solbar.
Menu, Dishes & Photographs
The best way to encapsulate the Solbar culinary offering is that it is quintessentially Californian. Although there are exceptions, the focus of the menu falls heavily on fresh, locally sourced produce and the stripped-down menu alights on quality over quantity.
Dinner
Grilled Octopus (First Course – $23)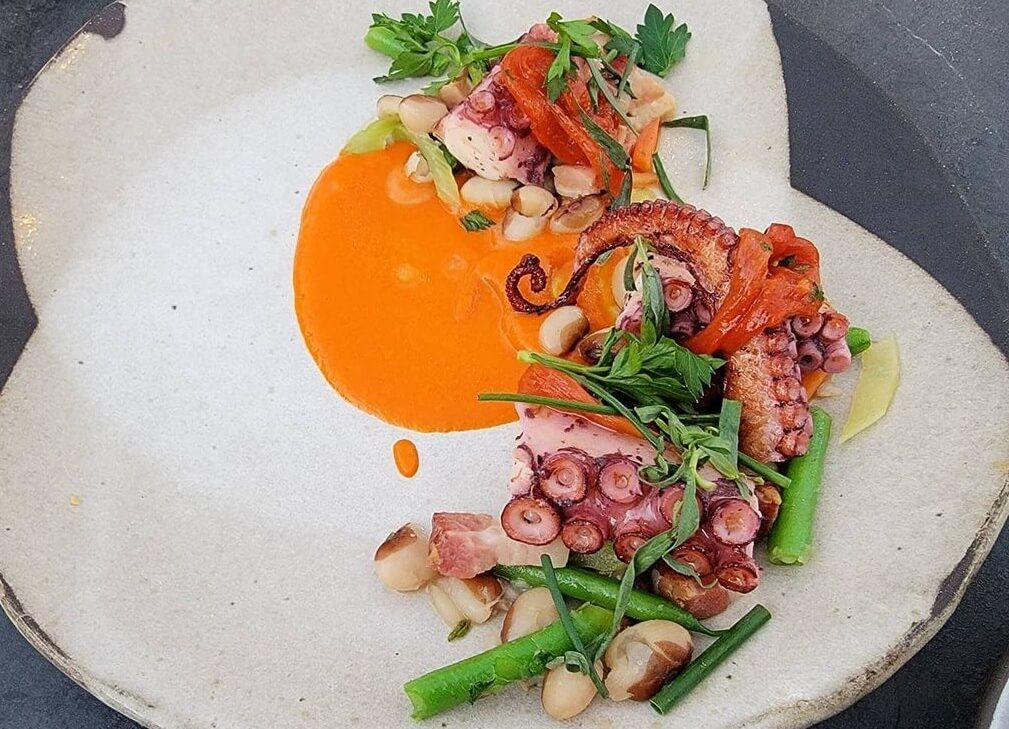 This is undoubtedly a hearty way to begin any meal. However, grilled octopus is also a dish that is notoriously easy to botch. Even in reputable restaurants, I've had the displeasure of tucking into disappointingly chewy and dry octopus dishes.
Solbar doesn't disappoint. Over the years, their team has cultivated a reputation for being creative with fresh, local produce, vegetables in particular. The red bell pepper sauce and butter are delicious but do not overwhelm. Meanwhile, cranberry beans, red pepper, and bacon offer an interesting but ultimately satisfying twist on a classic dish.
The serving is generous enough to allow one to keep on savoring the taste, while still having a strong appetite for what comes next.
Black Truffle Tagliatelle (First Course – $30)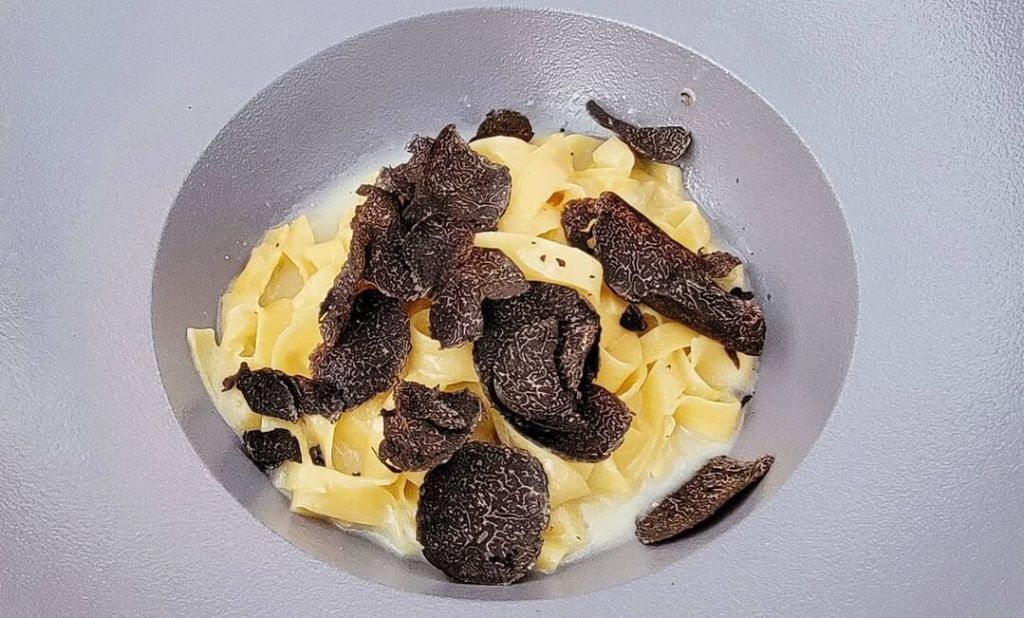 This dish is defined by its simplicity (and rightfully so) — the black truffles and truffle butter are wonderfully flavorful and fragrant. The tagliatelle is reasonable, if not excellent, and is lightly garnished with parmesan.
There isn't a great deal more that can be said for this dish. It isn't needlessly contrived and nor ought it to be. Although one can't rave too much about standard fare, it meets expectations, which is good enough.
Other first course options for our visit included house rolls with butter and sea salt ($10), whipped California avocado ($26), Cremini mushroom soup ($18), and the garden salad ($18).
Liberty Farms Duck Breast (Main Course – $52)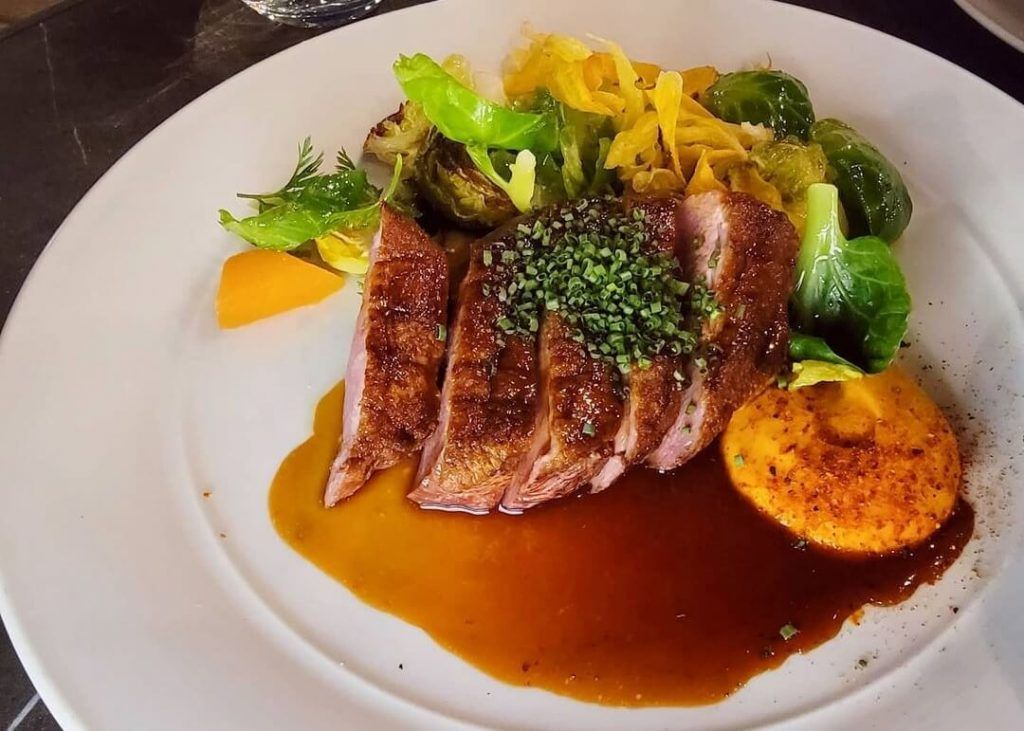 Solbar's duck breast was perhaps the most anticipated course of our visit. "Liberty ducks" are essentially closely related to the more widely known Pekin duck. They were bred for suitability to a slower pace of maturing.
Fortunately for restaurants of this region, Liberty ducks are reared in nearby Sonoma County. The farm lays claim to providing some of the best quality duck anywhere in the United States.
There are few better places to sample this delight than in the vicinity of the farm itself. The tenderness and sumptuous flavor did not disappoint. Slightly crispy skin gives way to succulent and expertly cooked duck breast.
The carrot soubise missed the mark slightly and the garnishings of baby carrots and Brussels sprouts add relatively little to the spectacle. Nevertheless, this was a thoroughly satisfying meal and a wonderful example of the potential of locally sourced ingredients.
Prime New York Strip Steak (Main Course – $50)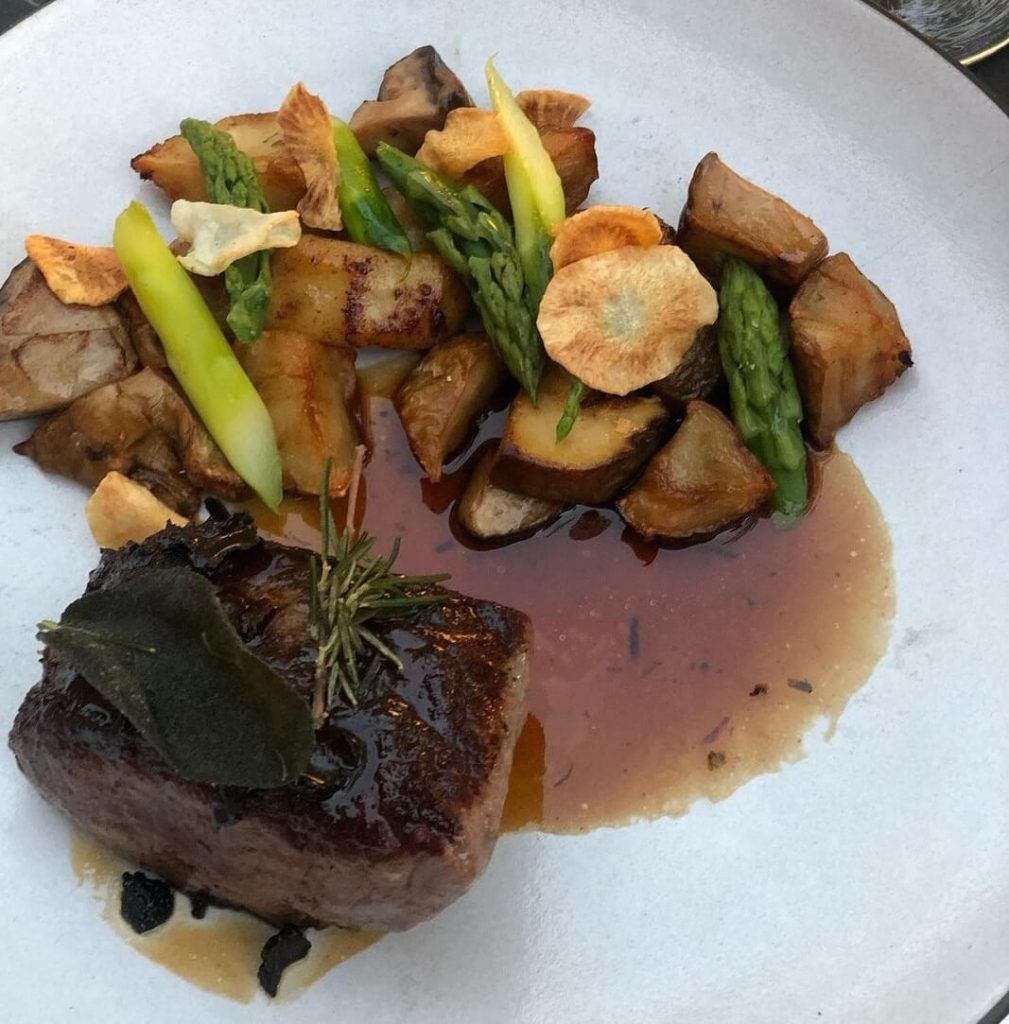 The New York strip steak is a delight and is beautifully complemented by a black truffle fondue. If there can be one complaint, it is that the dish leaves you wanting more, and at $50, it is perhaps reasonable to expect as much.
Nevertheless, I wouldn't hesitate to both recommend this dish and order it again myself.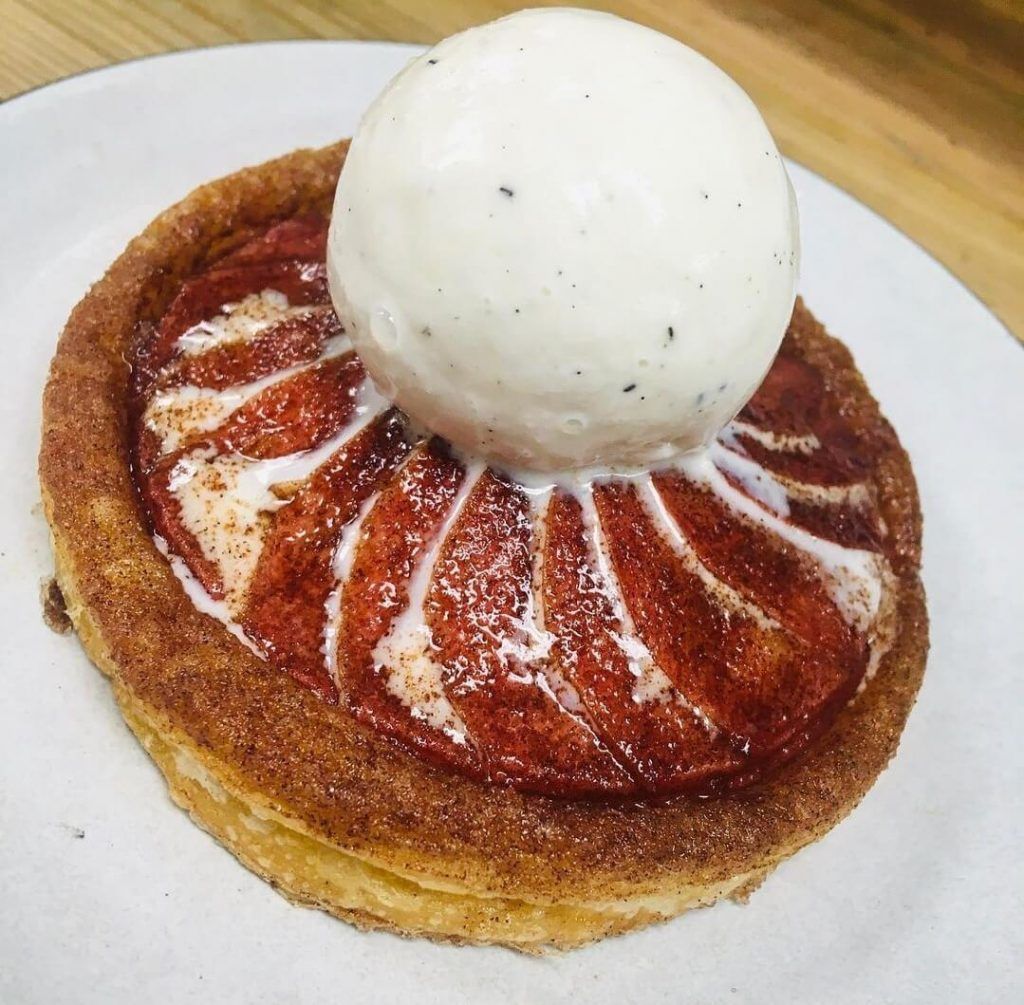 This dessert polarized our group and is likely to fall into your "love it or hate it" category. It is a brave effort and one that ultimately exceeded my expectations. Beautiful sour notes from fuji apples and verjuice mold together with cinnamon and a level of sweetness that is gauged to perfection.
Topped with vanilla bean ice cream, the dish meshes wonderfully to deliver an interesting end to any meal.
Lunch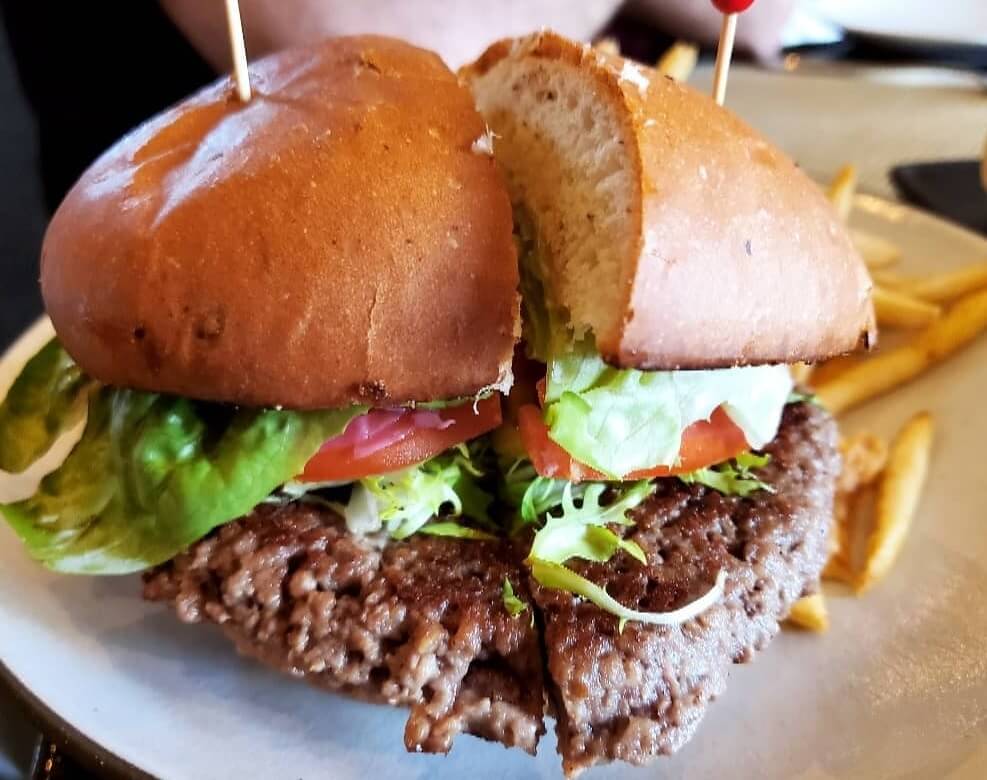 There's a lot to like about Solbar's burgers, including the signature fried pickles that send this dish over the top. All of the other elements hold their own nicely: the "follow your heart" cheese is sharp and beautifully melted and the lettuce is impeccable. If you feel like having a burger for lunch, then be prepared to fully conquer your craving. Of course, the solfries will play a strong supporting role in this endeavor.
Breakfast
It is worth noting that Solbar offers a pretty reasonable breakfast menu. Morning diners ought not to expect any frills, however. Nevertheless, the food is both satisfying and moderately priced. Highlights include Liege (Belgian) waffles ($8), donut holes with chocolate and coffee dipping sauce ($10), and house-smoked salmon lox ($25). There is also a pleasant range of healthy and refreshing smoothies.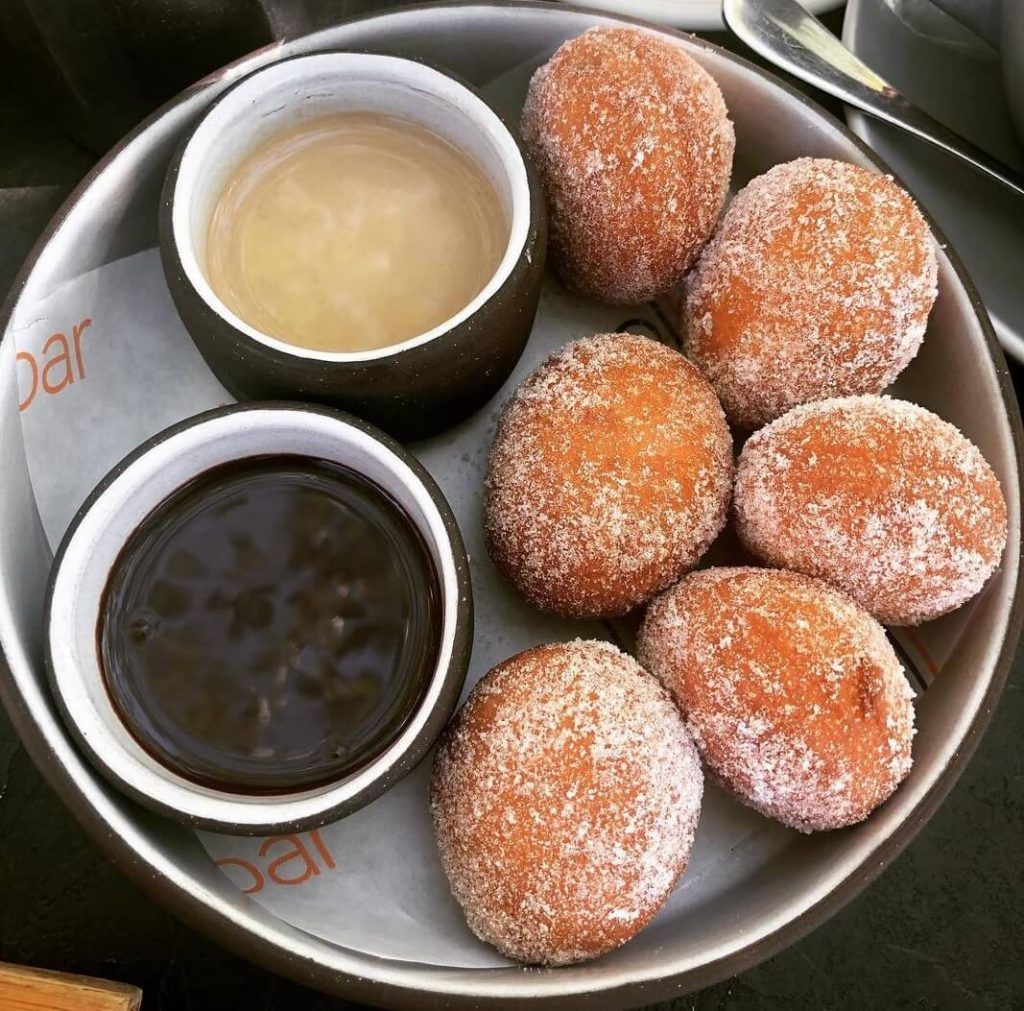 Wines
Solbar, like all Napa Valley eateries worth their salt, is a wine mecca. The wine list is curated by an in-house sommelier and attentive wait staff are always eager to offer advice on pairings.
Naturally, the wine is tilted toward the produce of our own gorgeous valleys. Napa and Sonoma Valleys are synonymous with wine for a good reason and a trip to Solbar isn't complete without indulging. At some point in the evening, you may even be liable to lose interest in pairings and simply sample everything!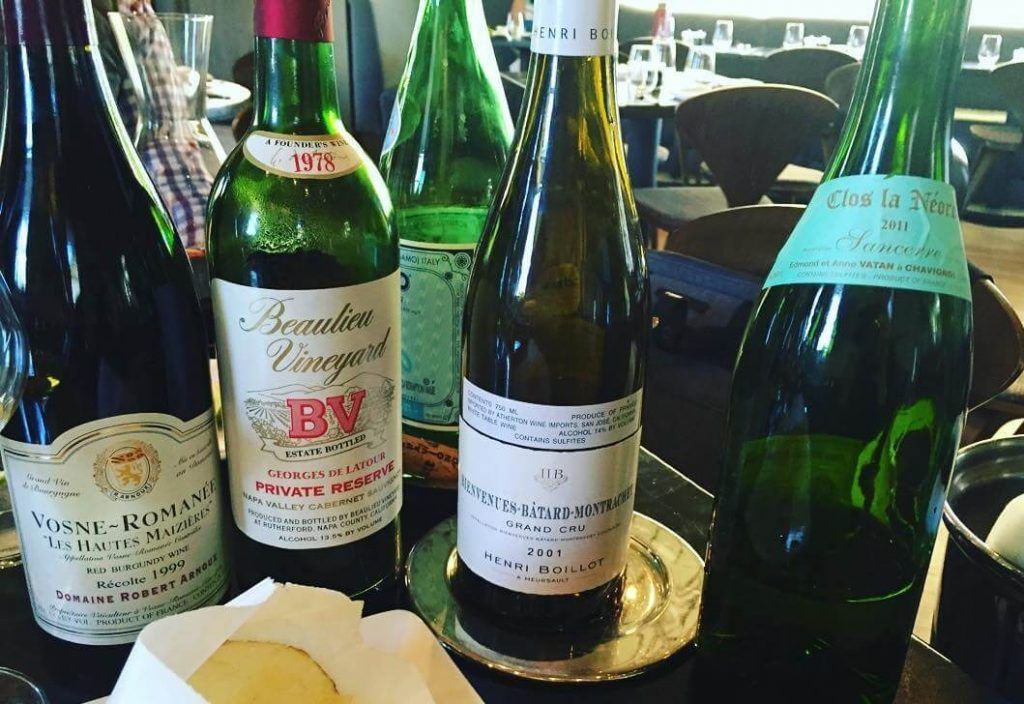 Summary & Verdict
Price range: $$$
What we love: Solbar is a rock-solid Calistoga institution and deserves a great deal of credit for pioneering the fine dining scene in the north of the Napa Valley. Some of the creative spark was sapped by the departure of executive chef Brandon Sharp, but there's still more than enough to warrant a visit. There is scarcely any better experience than dining on the Solbar patio on a fine evening.
What we don't love: Some dishes miss the mark ever so slightly. Clearly, prices tend toward the high side and so visits may be best spared for special occasions. Although not your everyday haunt, the special atmosphere is still enough reason to try your luck at Solbar.
Final rating: 4/5
Open for: Breakfast, lunch, and dinner. Outdoor dining, in-room dining, and to-go are all available.
Getting a table: Reservations recommended. Call the restaurant at (707) 226 0860. Unlike some Napa Valley restaurants, securing a reservation at Solbar is relatively straightforward under normal circumstances. As always, it is better to secure your table well in advance to avoid disappointment.
FAQ
Is Solbar available to host events?
Solbar is situated by Solage (an Auberge resort), which is a luxurious resort well known for hosting both lavish and relatively low-key events. Weddings, events, celebrations, and meetings can all be arranged and tailored to the needs of your party. There is also a "Resort Buyout" option in which your party can "transform" the resort into your own private paradise.
Is Solbar connected with Auberge resorts?
Yes! Solbar is part of the wider resort known as Solage. This resort is famous for its spa treatments, as well as its relaxing and hospitable vibe. The Auberge Resort Collection is much more expansive, however, and includes Calistoga Ranch and Auberge du Soleil near Lake Hennessey.
Is Solbar a Michelin star restaurant?
Unfortunately, as of 2021, Solbar is no longer a Michelin-starred restaurant. The restaurant proudly became Calistoga's first culinary institution awarded the prestigious star in 2010. However, in 2018, the star was dropped and as yet has not been reinstated.
Does Solbar have a happy hour?
At present, it would appear that Solbar does not have a happy hour. However, arrangements of this nature tend to be sporadic so it is worth confirming with restaurant staff.
Does Solbar offer brunch?
Absolutely! Although there is no separately defined brunch menu, Solbar is still an excellent spot to enjoy brunch out on a gorgeous patio. Breakfast is served from 8 am to 11:30 pm, after which you'll have to settle for the equally pleasant lunch menu.
Are there other strong dining options nearby?
Popular spots include Evangeline (Louisiana-inspired), Sam's Social Club (American fare), and, for a cafe vibe, Lovina.